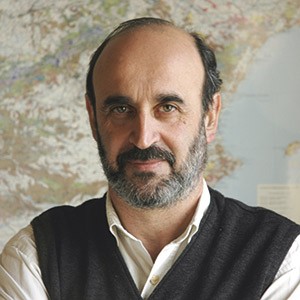 Benigno Varillas Suárez
BBVA Foundation Biodiversity Conservation Awards
3rd edition
He receives the award goes for the quality of his long and ground-breaking professional career in the environmental communication field.
BIO
Benigno Varillas is a pioneer in Spanish environmental journalism and ecologism, who has devoted his thirty-year career to working for the conservation of nature as a journalist, writer, public speaker and editor.
He has received a score of awards for his environmental communication labors which extend across every possible medium. Aside from publishing numerous articles in newspapers and magazines, he has been a regular contributor to radio programs and, between 1983 and 1986, worked as scriptwriter and advisor on nature documentaries for national broadcaster TV2. He was also among the first in Spain to utilize the Internet as an environmental communication channel. In the 1990s, he designed the Environmental Education website of the National Center for Environmental Education (CENAM)-Ministry for the Environment and the website of the Linneo booksearch service.
As an editor, he founded the magazine Quercus in 1981 followed by El Cárabo in 1982, and worked as an advisor to Natura in the year 1983. He has edited 16 books on the environment and nature and co-authored around a dozen more. Benigno Varillas is co-founder of six conservationist associations, among them Greenpeace-España (1983).
He is working at present on an Internet communication platform to connect up the two worlds of biodiversity and rural development, while serving as an Environment Ministry advisor for the National Strategy against the Illegal Use of Poisoned Bait in the Natural Environment. His current writing projects include a biography of Félix Rodríguez de la Fuente and three educational publications on the natural resources of Burgos province.
A standard setter in environmental reporting
Benigno Varillas' has been a life dedicated to environmental communication. In 1976, he was one of the team of professionals behind the launch of national daily El País. A year later, he created an Ecology section in its Society pages, under the directorship of Ángel Sánchez- Harguindey. This was the first ever environmental section by a reporter in a Spanish newspaper. In the years of the democratic transition, Benigno Varillas' writings in El País helped bring environmental issues to the attention of a wide public; the birth of the ecologist movement, the reclassification of national parks and the inclusion of environmental references in the Spanish Constitution were among the debates of the time that benefitted from his regular commentaries in El País. These were seven years of daily output until 1983, prolonged thereafter in occasional contributions. From 1993 and 1996, he also wrote a column in the Sunday supplement of newspaper El Mundo.
An educational vocation has been manifest throughout his career. In 1981, he founded the magazine Quercus, devoted to conservation biology, with a clearly conservationist editorial line characterized by its rigor, independence and commitment, which in the eighties and nineties helped build an ecological conscience among its thousands of readers. Benigno Varillas directed this publication for a total of more than 20 years. Shortly after it was founded, he started up young people´s nature magazine El Cárabo, whose Spanish version was adapted by journalist Teresa Vicetto from the original French publication La Hulotte , the work of writer and illustrator Pierre Déom. Benigno Varillas continues to direct this quarterly magazine, aimed at young enthusiasts of natural sciences and ecologism. El Cárabo stands out for its rigorous treatment of the natural surroundings, combined with a wry humor and light-hearted style. In 1987, he organized the youth nature clubs Conocer y Proteger la Naturaleza , whose federation now has around twenty affiliated groups.
In 1994, he was working on an innovative project to introduce digital electronic communication using a BBS. Two years later, this node became the first Spanish-language environmental server, which began broadcasting under the RedQuercus name in January 1996, with support from the Ministry of Industry and the Economy Department of the Madrid Regional Government.
As curator, in 1992 he organized and designed an exhibition of books on biodiversity and the environment, which was shown at the Madrid Book Fair with the sponsorship of the Ministry of Public Works and Town Planning, Madrid City Council and a long list of publishing houses. Over two thousand books finally went on display accompanied by a catalogue. He has also developed communication strategies for nature conservation campaigns: Eurofauna (1986), A National Strategy against Poison in the Countryside (2003) and the Rural World-Biodiversity Convergence Plan (2006), a project he continues working on today through the Fundación Félix Rodríguez de la Fuente.