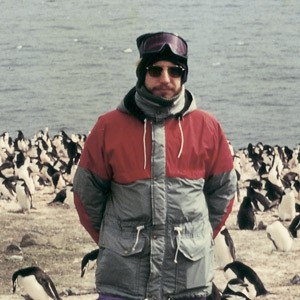 Javier Gregori Roig
BBVA Foundation Awards for Biodiversity Conservation
9th edition
The award goes to Javier Gregori Roig for his long career in the field of scientific reporting with a particular accent on environmental and biodiversity conservation issues.
BIO
Javier Gregori (La Vall d'Uixó, Castellón, 1967) was not always going to be a journalist. As a child, his ambition was to be an astronaut – "Cosmonaut, I used to say cosmonaut", he specifies. A dream that seems a far cry from the School of Information Sciences at the Universidad Complutense de Madrid, where he graduated in 1991, or the jobs he took while he was studying, in the Madrid offices of regional media Castellón Diario and Canal 9 Radio, and as an intern in the Press Office of the Congress of Deputies.
But today, after 22 years as head of environmental and scientific reporting in the news service of Cadena SER, not only has Gregori not forgotten his astronauts – cosmonauts – but has more than once turned to them in the course of his professional activity to convey "the power and magnificence of nature," as he puts it. "Astronauts are the last explorers, they see what no one else has seen: the Earth from space."
In 2008, Gregori branched out from his job on the SER news service and started work as a contributor covering environmental issues for the same station's Hoy por Hoy, the audience leader in Spanish radio. This was in addition to his longstanding collaboration, since 1996, with SER aventureros. But his professional activity does not stop at radio. His CV features reports and interviews on ecology-related matters in newspapers like El País and El Mundo, and from 1996 to 1999 he was in charge of the environmental pages of weekly magazine Cambio 16.
Outside the newsroom, Gregori served as an associate professor of journalism at Carlos III University, Madrid from 2004 to 2008, and was tasked with drawing up the first syllabus of the specialist Science and Environment program aimed at final-year journalism and law students. After four years, however, he gave up the position on the grounds of having "no time to combine my academic work with a busy journalistic schedule".
He is also author of the outreach publication Astronautas. Exploradores del Espacio as well as various fictional works, and has served as a scientific advisor for the publishing house El País-Aguilar. In his few free moments he like to play the violin, and is fond of reading, hiking, astronomy and the observation of wildlife.
CONTRIBUTION
Gregori also believes that environmental reporting works especially well on radio, because "it's a medium that creates an intimacy with the listener". There are other advantages too. Radio facilitates fast, cheap, reliable, direct and wide-reaching coverage… "Now it's easy to tune in by phone from anywhere in the world", he notes. "And cheap as well, so we can give the environment plenty of air time. Last week we did a one-hour program on climate change, which would be difficult, if not impossible on TV".
One example that, in his view, contains all the ingredients – adventure, wonder, immediacy and topicality – that go to make the best radio content is his 1998 interview with astronaut Miguel López Alegría, on board the NASA space shuttle Columbia: "He was looking at a black tide and describing it to me live. Only radio can do that. We are the first to arrive, and the first on the air". Later, in 2004, Gregori would also be the first to conduct a live interview from Spain with the crew of the International Space Station.
No less impressive is the list of personalities that have shared his microphone – primatologist Jane Goodall, magnate Bill Gates – and of landscapes his voice has brought to life in his radio program Tierra. Gregori has spoken from Doñana on the importance of wetlands; from Greenland on climate change; from the Amazon on the destruction of indigenous peoples' habitat; from Sumatra on the campaign to conserve the orangutan; from the Costa da Morte on the Prestige oil spill. And he is among the Spanish journalists with most experience of covering the often bewildering international climate summits.