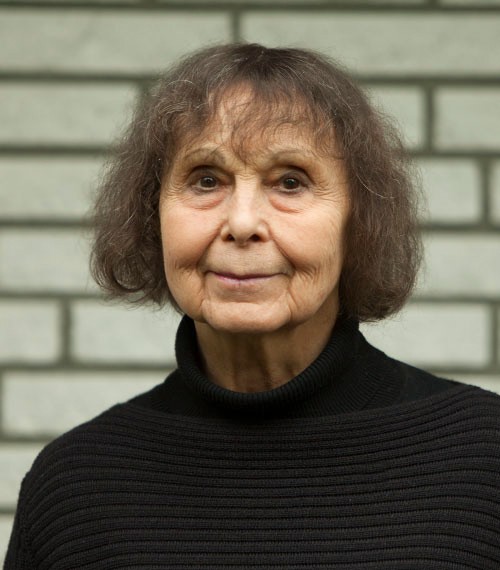 Sofia Gubaidulina
FRONTIERS OF KNOWLEDGE LAUREATE
The BBVA Foundation Frontiers of Knowledge Award in the Contemporary Music category goes, in this ninth edition, to composer Sofia Gubaidulina, for the exceptional range and quality of her musical creation, which builds innovatively on a rich diversity of traditions and instruments to produce works imbued with a spiritual quality that is always personal and searching.
BIO
Sofia Gubaidulina was born in Chistopol, in the Tatar Republic of the then Soviet Union, in 1931. After studying piano at the conservatory of Kazan, on the banks of the Volga, she moved to Moscow to take composition classes with maestros like Nikolai Peiko – Shostakovich's assistant – and Vissarion Shebalin.
In 1975 she formed the Astreja Ensemble with colleagues Viktor Suslin and Vyacheslav Artyomov, devoted to exploring the folk music and instruments of Central Asia. As a composer she would subsequently employ some of these instruments in her scores.
She first garnered international attention in the 1980s, thanks partly to the determined advocacy of musicians like violinist Gidon Kremer, the dedicatee of her masterly violin concerto Offertorium (1980, revised in 1986), the work that would carry its author's name beyond the borders of the Soviet Union and lay the foundations of her worldwide repute.
The strong spiritual and religious temperament informing Gubaidulina's oeuvre caused friction with the Soviet authorities, to the extent that in 1979 she was added to the blacklist of composers seen as suspect by the regime.
In 1985, she left the USSR for the first time and found immediate acceptance. The United States particularly, a country she first visited in 1987, would prove a rich seam of commissions and premieres. Gubaidulina remained in Russia until 1992, then moved to a small town outside Hamburg in Germany, where she has lived ever since.
Her works have been premiered by names of the stature of Simon Rattle, Anne-Sophie Mutter, Gustavo Dudamel, Kent Nagano or the Kronos Quartet.
CONTRIBUTION
"Since childhood, my goal has been to add to the sum of knowledge, to become universal, to understand the world in its entirety." With these words, Sofia Gubaidulina explains, unintentionally, why musical creation deserves its place among the categories of the Frontiers of Knowledge Awards. Gubaidulina's brand of knowledge is not scientific but mystical. Like St. John of the Cross, contemplation takes her to a place transcending all knowledge. Her life and work are ruled by this drive to understand and reunite the universe, which she sees as divided into heaven and earth. Although instead of "reunite," she might prefer "bind fast," as in the Latin verb "religare" that grew into the word religion.
Gubaidulina conceives music (and art in general) as a Jacob's ladder with one end resting on the earth and the other in heaven. Her aesthetic is neutral: compositional procedures are only important to her insofar as they are effective as a mystical vehicle. Proof of this is that she has so far held off from writing opera:"Opera would keep me tied to the ground, because it involves too many things. The symphony, however, which doesn't have this clutter, allows me to ascend to heaven."
"Opera would keep me tied to the ground, because it involves too many things. The symphony, however, which doesn't have this clutter, allows me to ascend to heaven."
Asked about her latest work, the Triple Concerto for violin, cello and bayan (2017), Gubaidulina remarks that its essence, for her, lies in the title word "Triple," because "three-ness" is a means to break free of the earth-heaven duality.
Sofia Asgatovna Gubaidulina was born on October 24, 1931 in Chistopol, in what is now Tatarstan, one of the Central Asian republics of the Russian Federation. Her father was a Tatar topographer and atheist; her paternal grandfather, a Muslim cleric dressed habitually in tunic and turban; her mother, a Russian schoolteacher of Polish and Jewish extraction. Sofia was fascinated by this mix of traditions. At the age of 23, she graduated in piano and composition from Kazan Conservatory. She then studied in Moscow for a further six years with two composers who had worked alongside Shostakovich: Nikolai Peiko, who introduced her to Mahler, Schönberg and Stravinsky, and Vissarion Shebalin, who awoke in her a twin passion for Tatar folklore and electronic music.
During these Moscow years, she also worked with Philipp Herschkowitz, a former pupil of Webern's. An immoderate love for the music of Bach completes the list of her main influences. Shostakovich's instruction to her to "continue on your own incorrect path" has become part of her personal legend. In his eternal political ambiguity, Shostakovich referred to the anti-Soviet nature of her music: avant-garde leanings, microtonal sonorities and, above all, spirituality if not out-and-out religiosity. For Gubaidulina, and her colleagues in the triumvirate of the Moscow avant-garde, Edison Denisov and Alfred Schnittke, continuing on the incorrect path meant giving up on a career.
She took refuge in composing for herself, writing film scores and practicing improvisation with folk instruments – for which she still feels devotion – as part of the Astreja Ensemble that she founded in 1975. In 1979, she was banned from releasing her music. Yet just one year later, her life and career were set on an entirely different course. She dedicated her Offertorium violin concerto (1980) to Gidon Kremer, who, enamored of the piece, performed it to a clamorous reception all around the world.
The West had by then come to know Gubaidulina's work and greeted her with open arms when she was finally able to leave the former USSR. In 1987, on a visit to the United States, she received commissions from the New York Philharmonic, the Chicago and Boston symphony orchestras, Yuri Bashmet and the Kronos Quartet. The story was repeated in Europe, with commissions pouring in from Berlin, Helsinki, Rotterdam, Stuttgart, Hamburg, London (including an extensive profile by the BBC) and Lucerne, as well as from soloists like Anne-Sophie Mutter, for whom she wrote the concerto In tempus praesens (2007).
Her fame extended to Spain, where she was composer-in-residence at the Encuentro de Santander in 2003, followed by a string of performances in 2009 – carte blanche concerts by the Orquesta Nacional de España, Johannes-Passion at the Canary Islands Festival, the premiere of Fantasy on the Theme S-H-E-A (2008), commissioned by the Escuela Reina Sofía – as well as monographic concerts in the Auditorio Nacional de Madrid and L'Auditori de Barcelona, and a CD by the Orquesta Sinfónica de Euskadi.
Gubaidulina premiered her Johannes-Passion (2000) and Johannes-Ostern (2002) in Hannover and Stuttgart respectively, the two forming a magnificent diptych on Christ's death and resurrection according to St. John. This arguably represents the pinnacle of her output, together with her pieces for the Russian accordion or bayan: De Profundis (1978), In Croce (1979), Silenzio (1991) and Seven Words (1982). Other major works include Introitus (1978), The Light of the End (2003) and Stimmen… verstummen (1986), in English, Voices… silenced, which features a long conductor's solo; that is, a passage of measured silence, pure structured time.
The creative use of silence and its surroundings is one of the hallmarks of Gubaidulina's style. Others are her recourse to rhythm as an organizing element, the use of the golden section and the Fibonacci sequence, economy of means and symbolic dualities; among them the transcendental opposition between the earthly (abundant, discontinuous, dramatic) and the divine (spare, continuous, calm), represented by the pairs sound/silence, tonality/microtonality, activity/stasis and others of that ilk.
Since 1992, Sofia Gubaidulina has been living in close to monastic solitude in the village of Appen, near Hamburg, where she regularly receives commissions from all around the world.