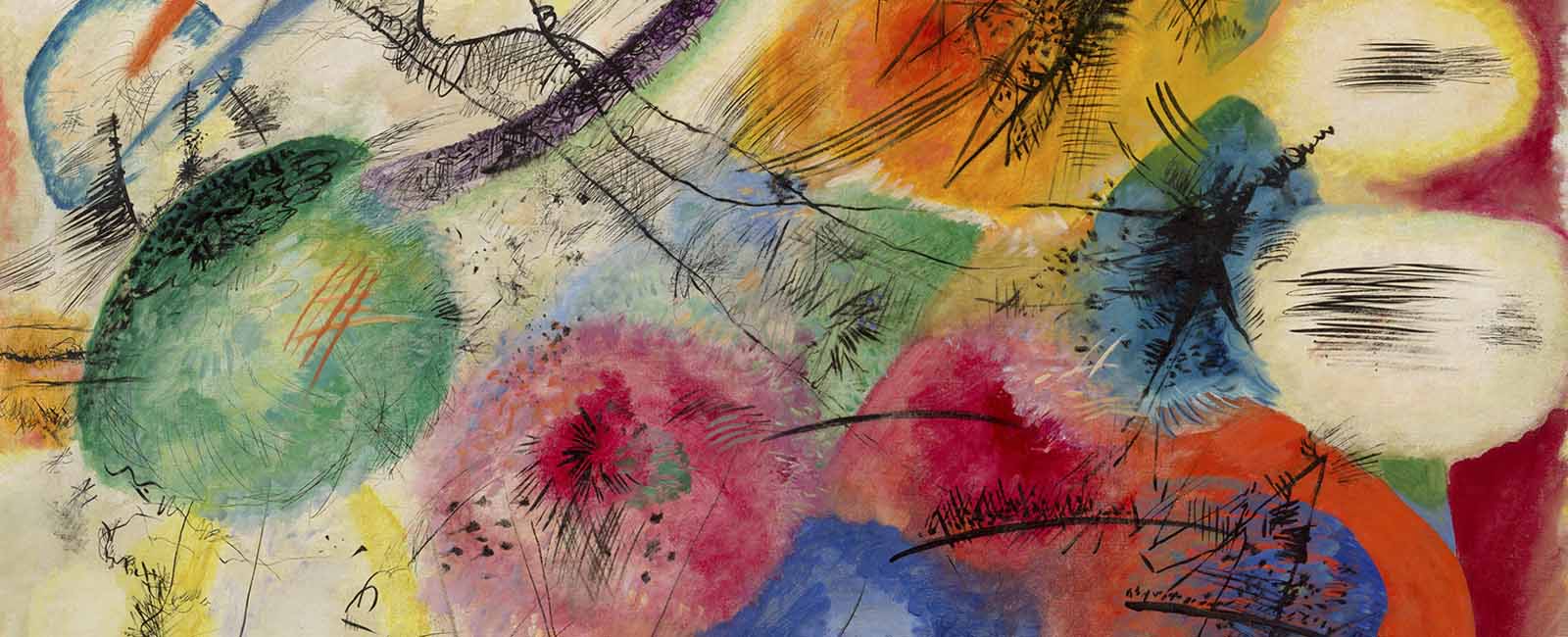 NOTICIA Open to the public between 20 November, 2020 and 23 May, 2021
The Guggenheim Bilbao and BBVA Foundation present the exhibition 'Kandinsky', tracing the evolution of a radical innovator who proclaimed the transformative power of art
The Guggenheim Museum Bilbao and the BBVA Foundation present 'Kandinsky', a comprehensive selection of paintings and works on paper by Vasily Kandinsky, drawn primarily from the holdings of New York's Solomon R. Guggenheim Foundation. The exhibition, which will run from November 20, 2020 to May 23, 2021, explores the work and evolution of one of the foremost artistic innovators of the early 20th century, a pioneer of abstraction and renowned aesthetic theorist.
In his endeavor to free painting from its ties to the natural world, Kandinsky (b. 1866, Moscow; d. 1944, Neuilly-sur-Seine, France) discovered a new subject matter based solely on the artist's "inner necessity" that would remain his lifelong concern. This exhibition, curated by Megan Fontanella, illustrates the full arc of Kandinsky's career, divided into four geographical sections that follow him through critical periods in his artistic development.
The first covers his time in Munich, for though Kandinsky studied law and economics in Russia, he left for the German city in 1896 to pursue a career in art, having been inspired by a French Impressionist exhibition and the opera Lohengrin by Richard Wagner. The move would herald a period of extensive travel (1904-1907) throughout Europe and North Africa with his partner, the German artist Gabriele Münter, during which his initial Neo-Impressionist exercises gave way to multicolor Bavarian landscapes, with compositional elements drawn from printmaking, and from 1909 onwards, to works of an increasingly expressionistic style that shift from portraying natural scenes toward depicting apocalyptic narratives. Recurring motifs in his work, such as the horse and rider, symbolized his crusade against conventional aesthetic values and his dream of a more spiritual future through the transformative powers of art. Continuing to push against figurative norms, Kandinsky believed color, shape, and line could translate an artist's "inner necessity" into universally accessible statements, offering a regenerative vision of the future.
While living in Munich, Kandinsky helmed the city's leading avant-garde groups, including Phalanx and Neue Künstlervereinigung München (New Artists' Association of Munich), and published several seminal treatises, such as Über das Geistige in der Kunst (On the Spiritual in Art ). In 1911 he and Franz Marc founded Der Blaue Reiter (The Blue Rider), a loose association of artists interested in the expressive potential of color and the symbolic – often spiritual – resonance of forms. By 1913, Kandinsky's recurrent subjects, including the horse and rider, rolling hills, towers, and trees, had become subsidiary to line and color. As his calligraphic contours and rhythmic forms revealed scarcer traces of their representational origins, Kandinsky began to advance abstraction and elicit what he called the "hidden power of the palette."
Cosmic Realms: Russia to the Bauhaus
In 1914, after the outbreak of World War I, Kandinsky was forced to leave Germany due to his Russian nationality. He eventually settled in his native Moscow, where the avant-garde sought to establish a universal aesthetic language through geometric forms. Having ended his relationships with Gabriele Münter and other German associates, Kandinsky observed his Russian contemporaries' experiments but found that his artistic pursuit of spirituality did not align with their detached, production-based approach.
Kandinsky returned with his wife, Nina, to Germany and in 1922 began teaching at the Bauhaus, the school of art and applied design founded by the architect Walter Gropius. Kandinsky discovered there an environment sympathetic to his belief in art's ability to transform self and society. He further investigated the correspondence between colors and forms and their psychological and spiritual effects. Geometric shapes came to dominate Kandinsky's pictorial vocabulary, and he used overlapping, flat planes. This change was due, in part, to the ongoing influence of the work he had encountered in Russia. Kandinsky continued to distance himself, however, from what he considered the "mechanistic" art of the Constructivists and the "pure" art of Suprematists like Kazimir Malevich, insisting that even his most abstract forms retained expressive, emotive content. For Kandinsky, the triangle embodied active and aggressive feelings; the square, peace and calm; and the circle, the spiritual and cosmic realm.
Around this time Kandinsky's work came to the attention of collector Solomon R. Guggenheim. Guggenheim, his wife Irene, and his art advisor Hilla Rebay visited Kandinsky at his Dessau Bauhaus studio in 1930 and purchased the monumental Composition 8 (1923) and other works. Kandinsky taught at the Bauhaus until 1933, when the school was closed due to pressure from the Nazi government.
Miniscule Worlds: Paris
This was how Kandinsky came to spend the last eleven years of his life in Neuilly-sur-Seine, a suburb of Paris. During this phase, Kandinsky was highly creative despite political turmoil and, later, deprivation. The artist experimented with materials (for instance, combining sand with pigment) and his formal vocabulary featured a softer palette and biomorphic forms. His intricate compositions from this period resemble miniscule worlds of living organisms, clearly informed by his contact with Surrealism, including the art of Jean Arp and Joan Miró, and his interest in the natural sciences, particularly embryology, zoology, and botany. Kandinsky also came to favor pastel hues (pink, violet, turquoise, and gold) reminiscent of the colors of his Russian origins.
In this later period, Kandinsky synthesized elements from his early career, his time at the Bauhaus, and the practice of his contemporaries. He worked in a large-scale format and used dark backgrounds reminiscent of his expressionistic and Russian-folktale canvases. He also incorporated motifs that allude to Paul Klee and to the Surrealists active in Paris, despite his resistance to associating with the latter. In Around the Circle (1940), this manifests in the intricate, vibrant composition of playful biomorphic forms.
During World War II, German authorities confiscated the work of Kandinsky and other modernists, declaring it "degenerate," and Stalinists in the Soviet Union closed museums, sending his paintings into storage. Kandinsky died in 1944 at age seventy-eight, nevertheless leaving behind an expansive oeuvre.
Industrialist and museum founder Solomon R. Guggenheim began collecting Kandinsky's work in 1929, and his enthusiasm for modern art led to the opening of New York's Museum of Non-Objective Painting, forerunner of the Solomon R. Guggenheim Museum, in 1939. Today the Guggenheim Foundation holds over 150 pieces by this pivotal artist.