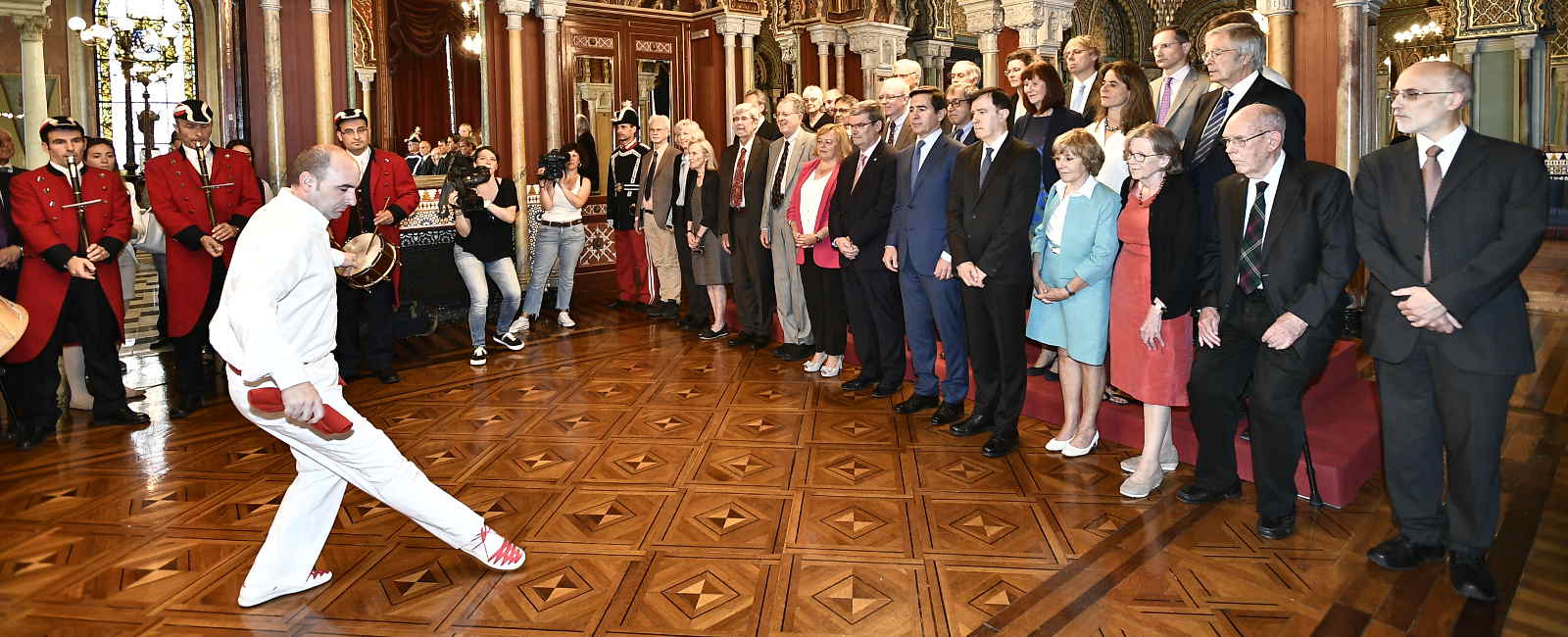 NEWS
The Mayor of Bilbao welcomes the Frontiers of Knowledge laureates
On Monday 17 June, the Mayor of Bilbao, Juan Mari Aburto joined with remaining city councilors in offering an institutional reception to laureates and committee members in each category of the 11th BBVA Foundation Frontiers of Knowledge Awards in the Arabian Room of Bilbao City Hall.
In his words of welcome, Mayor Aburto thanked the BBVA Foundation for "choosing Bilbao for this and future editions of the Frontiers of Knowledge Awards." He described the event in the Arabian Room as being of paramount importance, "because, for the first time in the 719 years of our city's history, we have the honor and privilege to be a place of encounter for some of the world's most brilliant minds."
Addressing the international committee and Frontiers of Knowledge Awardees, whom he referred to as "the intellectual seedbed for a world that we have to be believe will a better one for people," Aburto thanked them for the opportunity afforded by their presence in Bilbao to "forge new relationships which, I am sure, will spur the innovative drive so central to the Bilbao character to even greater heights.
Established in 2008, the BBVA Foundation Frontiers of Knowledge Awards, funded with 400,000 euros in each of their eight categories, are bestowed annually to recognize groundbreaking contributions in diverse branches of human knowledge.
Some 50 to 60 nominations are received each year in most award categories, and the final decision falls to an international committee made up of world authorities in the corresponding subject area. A total of 93 individuals and institutions received Frontiers Awards in the program's first ten years, of whom seven would go on to win the Nobel Prize: Shinya Yamanaka, Nobel Prize in Medicine in 2012; James P. Allison, Nobel Prize in Medicine in 2018; Robert J. Lefkowitz, Nobel Prize in Chemistry in 2012; Lars Peter Hansen, Nobel Prize in Economics in 2013; Jean Tirole, Nobel Prize in Economics in 2014; Angus Deaton, Nobel Prize in Economics in 2015; and William Nordhaus, Nobel Prize in Economics in 2018.
"Bilbao, City of Knowledge"
The BBVA Foundation now wishes to lend new impetus to the social projection of its Frontiers of Knowledge Awards, which from this edition onwards will hold their closing gala in Bilbao. This year's event will take place on the evening of 18 June in the Euskalduna Conference Centre, while the gala concert in honor of laureates, another annual event that will move to Bilbao, was performed by the Basque National Orchestra on the same stage on the evening of Monday, 17 June.
"Bilbao represents BBVA's roots, and shares with us a spirit of openness and a global outlook anchored on a strong culture of knowledge, art and innovation," declared the Foundation's President Carlos Torres Vila, who also spoke at the occasion. "The attributes of the awards are also characteristics of the Basque society in which BBVA has its origins and markers of identity. And it is for this reason that we wish to permanently link the Frontiers Awards to Bilbao, symbolizing the city's status as a center of knowledge."
Awardees in this eleventh edition of the BBVA Foundation Frontiers of Knowledge Awards are:
The City Hall reception was attended by all laureates with the exception of Professor Noam Chomsky, who for medical reasons was unable to travel to Bilbao. Also present were sixteen members of the international committees deciding the Frontiers of Knowledge Awards, among them the 2005 Nobel prizewinner in Physics, Theodor W. Hänsch.