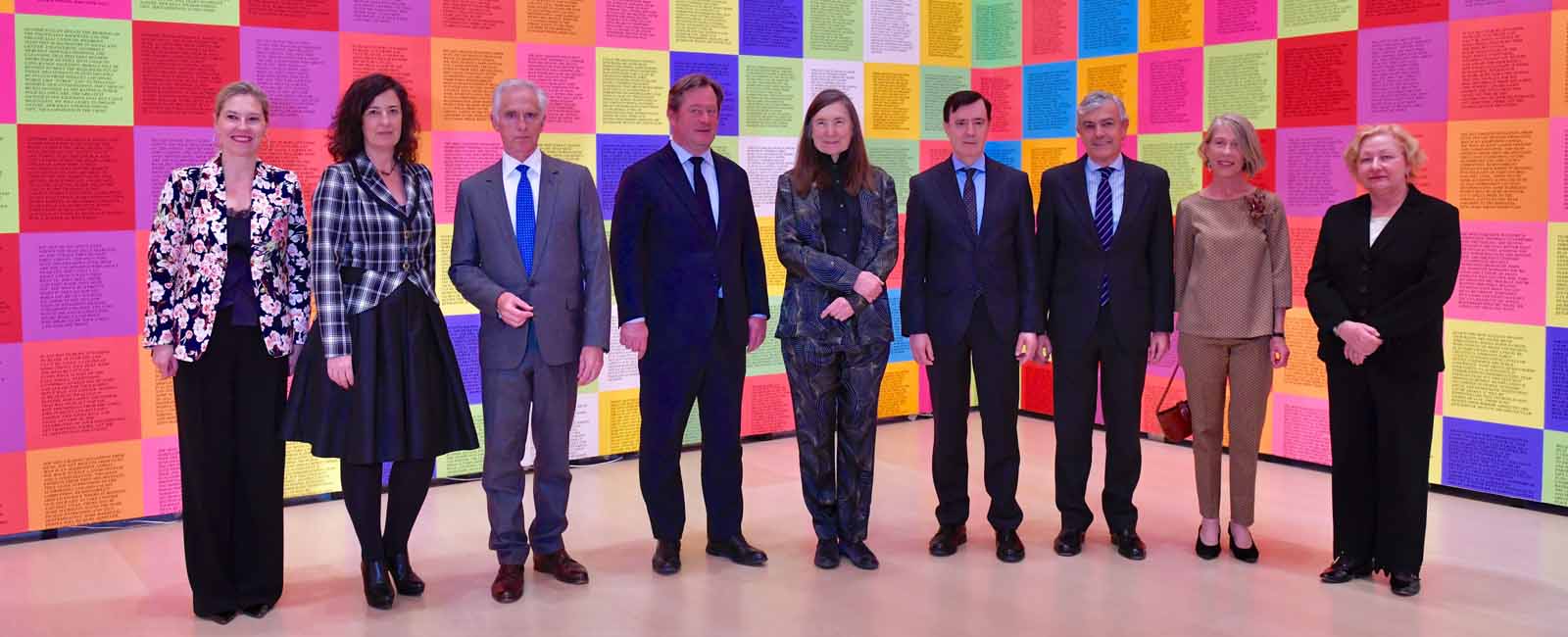 NEWS Until 9 September
The Guggenheim Museum Bilbao, in collaboration with the BBVA Foundation, presents 'Jenny Holzer. Thing Indescribable'
The Guggenheim Museum Bilbao presents Jenny Holzer. Thing Indescribable, sponsored by the BBVA Foundation, a comprehensive look at the work of one of the most important artists of our time, running until 9 September. The exhibition features newly created works, including a series of light projections on the museum's facade that the public can enjoy every night from 21 to 30 March.
Holzer's work has been part of the museum's fabric since its beginnings, in the form of the imposing Installation for Bilbao (1997). Installed in the atrium, the work—commissioned for the museum's opening—is made up of nine luminous columns, each more than 12 meters high. Since last year, this site-specific work has been complemented by Arno Pair (2010), a set of engraved stone benches gifted to the museum by the artist.
The reflections, ideas, arguments, and sorrows that Holzer has articulated over a career of more than 40 years will be presented in a variety of distinct installations, each with an evocative social dimension. Her medium—whether emblazoned on a T-shirt, a plaque, a painting, or an LED sign—is language. Distributing text in public space is an integral aspect of her work, starting in the 1970s with posters covertly pasted throughout New York City and continuing in her more recent light projections onto landscape and architecture.
Visitors to this exhibition will experience the evolving scope of the artist's practice, which addresses the fundamental themes of human existence—including power, violence, belief, memory, love, sex, and killing. Her art speaks to a broad and ever-changing public through unflinching, concise, and incisive language. Holzer's aim is to engage the viewer by creating evocative spaces that invite a reaction, a thought, or the taking of a stand, leaving the sometimes anonymous artist in the background.
Photo: The directors of the Guggenheim Museum Bilbao and the BBVA Foundation, Juan Ignacio Vidarte and Rafael Pardo, with the artist, Jenny Holzer, and the curator of the exhibition, Petra Joos.