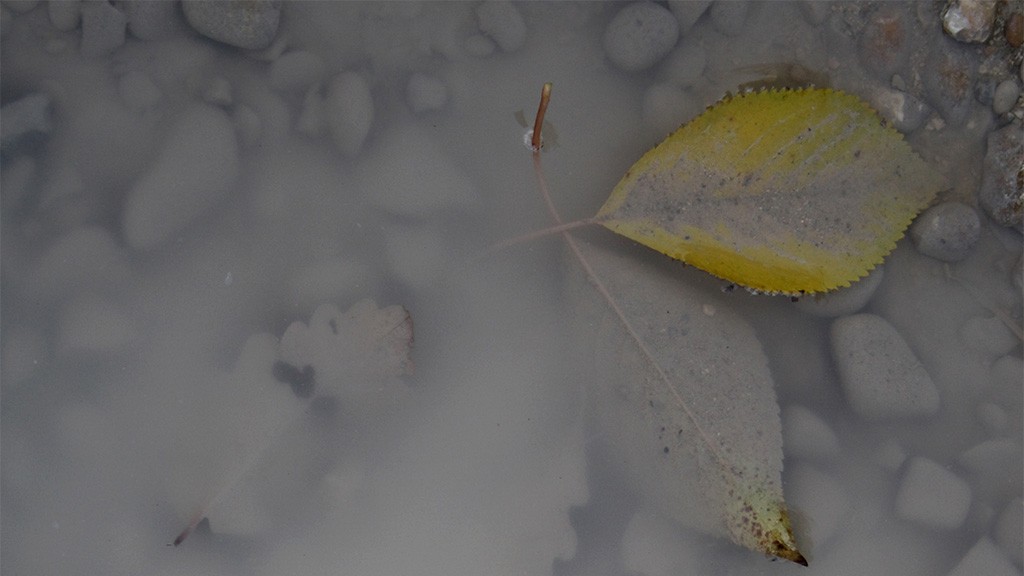 The exhibition can be visited between 2 and 31 October
The BBVA Foundation presents the exhibition "Charcos y Ballenas," with the photographs of Rosa Juanco and the poems of Fernando Beltrán
A shared love of puddles has brought together painter and photographer Rosa Juanco and poet Fernando Beltrán, who conjure beauty and vertigo in equal measure, each from their own angle, art form and anchorage point of reflection. The result is an exhibition of 40 poems and 20 photographs curated by Fátima Bravo which can be seen from 2 to 31 October in the Marqués de Salamanca Palace, marking the resumption of public events at the BBVA Foundation's Madrid headquarters. Admission is free subject to the capacity limit laid down by the health authorities.
"Charcos y Ballenas. Las palabras que quedan por decir" came about, "like almost anything worth doing, quite by surprise," recalls Rosa Juanco. "It was autumn, and I was travelling through the Champagne region of France. It had just rained and there were those puddles that had a whole world inside them, with depths you could lose yourself in, and mirrored surfaces that held nature – leaves and insects – in a fragile balance. The puddles also held the reflection of everything that stood above them, like everything that was yet to come. So the vestige that the rain had left, was, in fact, in three dimensions; past, present and future.
But the artist, who divides her time between Madrid and Brussels, was seeking something more, "something that would anchor and lend depth to my images." With this in mind, she approached Oviedo poet Fernando Beltrán, author of El Nombre de las Cosas and winner of the Asturias Prize for Literature, with works translated into over twenty languages. Beltrán had no problem identifying with the project, because puddles – "esa última palabra que a la lluvia, tras irse / le queda siempre por decir" – are a part of his personal landscape: "I was born in a northern city called "Lloviedo" (Oviedo), where it rained, rained, and rained. My childhood was running around among puddles. It was stopping at puddles that had a name. I was lucky enough to be born in a city where the puddles had names, and we would meet at "the milk jug" or "the heart" or "the boot…" Thus began their shared journey, a "reflection of infinite thought," says Beltrán, who takes puddles as a starting point en route for the innermost being: "Me miras: dos charcos que no alcanzo / Amar es no vivir, pero saberme a salvo."
"The whales appeared later," Juanco relates, "they didn't come with the photographs". "There's this double-edged thing with the puddle," Beltrán concurs. "You avoid it, you don't want to step in it and get wet, yet its beauty draws you in. That is the magic of the puddle and the whale that waits within. One minute you're enjoying the beauty of a park with puddles or a pavement with puddles, then suddenly you enter another world where each of us has their puddles… and the whale lies in wait. The whales are conjured by the power of both image and verse, which together become more powerful still. The poet explains it thus: "Rosa gets us to see whales in these photographs, and fish, with their beauty but also their spines. And I have tried to make each person's spines somehow visible in these poems, because if you put your spines there, and your scales, and the eye of the fish… ultimately we are all very alike and you end up touching the spines and the beauty of the whole world." The visual artist unpacks the experience of finding her own Whales by delving into the wet landscape: "Fernando is the guiding spirit of my puddles. It is his verses that allowed me to sink deep into them, without fear of getting wet. To embark on this journey together that has helped me see my photographs from a deeper perspective, opened windows and feelings for me, given me new insights onto my work that I hope we are able to convey, and allowed me to be the whale that moves in and out of the water, thrashing its tail but breathing, always breathing."
This cross-fertilization is the backbone of the exhibition, comprising twenty photographs, forty poems and a video of the two artists discussing the project's gestation, significance and scope. "There's a depth in Fernando's verses that penetrates the images and takes us from floating in the puddle to submerging ourselves within it," says the photographer. Fernando, in response, muses: "Sometimes you think you've said everything there is to say about something, and suddenly someone asks for some words, as Rosa did. And did so with the generous gift of her photographs, an art that moved me deeply and pulled me back in… Well, I thought I had said it all, but, no, there was everything left to say. In this shared project, what we give is at once chasm and beauty, puddles and whales."
When image and metaphor combine to create "a topology of fuzzy knowledge"
Time, stability, memory, symbol and discourses that diverge and reunite: these are facets of the project highlighted by art critic Carlos Delgado Mayordomo in the text that accompanies the exhibition.
"Two discourses unfold and intertwine in Charcos y Ballenas: on the one hand, the photographic representation of nature and, on the other, the written enunciation of metaphor. The first discourse is imbued with a desire for stability, itself just an instant in the entropy inherent to nature. The second, the deployment of metaphor, emerges as a happy deviation of language, in which unexpected meanings invariably ring out. Here, time is the measure of how long the puddles take to dry, but also the dialogic dimension of two memories in a constant process of (re)construction. As poet Fernando Beltrán tells us, we need to learn Esa lección del charco / que en invierno se hiela / para vivir aún más. Rosa Juanco's images are the story of an external discovery basking in the promise of its own decay. Beltrán's poems bring to the surface personal and collective memories and imaginaries, modulated through diverse processes of symbolization. Both artists strive to present a topology of fuzzy knowledge, by means of the conjuring of unstable surfaces, blurred forms and leaves landing on the water, their edges gleaming bright."