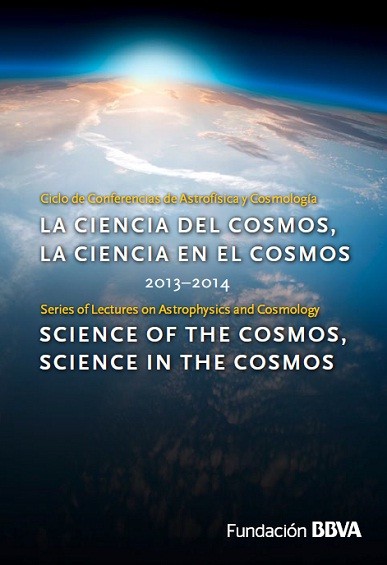 DVD
Science of the Cosmos, Science in the Cosmos
3rd Astrophysics and Cosmology Lecture Series (2013-2014)
Research on how the universe began, what it is made of and what what kind of objects it contains is going through something of a golden age. Space missions, large telescopes and ground-based experiments are bringing today's researchers tantalizingly close to some of the answers science has sought through past millennia.
But new questions continue to arise: How many planets similar to Earth are orbiting other stars, and how can we set out to find them? Why, at some point some 13 billion years ago, did a tiny, hot universe begin expanding in a Big Bang? These are some of the topics covered in the 2012-2013 astrophysics and cosmology lecture series organized by the BBVA Foundation.
The lectures are in English with Spanish subtitles and the booklet is published in English and Spanish.
Speakers:
Richard Ellis, California Institute of Technology: Let There Be Light: Finding the Earliest Galaxies
Simon White, Max Planck Insitute for Astrophysics: The Origin of the Galaxies
Gerda Horneck, Institute of Aerospace Medicine of the German Aerospace Center: Astrobiology: The Quest for the Conditions of Life in the Universe
Scott Tremaine, Institute for Advanced Study, University of Princeton: The Long-term Stability of Planetary Systems
Conny Aerts, Catholic University of Leuven: Asteroseismology: The Study of Starquakes and Its Impact on Astrophysics'
Martin Rees, Cambridge University: From Mars to the Multiverse
Director of the series:
Ana Achúcarro, Leiden University, University of the Basque Country.