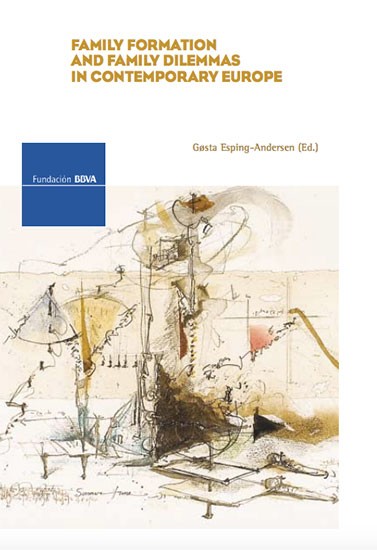 PublicationMonographs
Family Formation and Family Dilemmas in Contemporary Europe
Social Sciences

> Demography, Sociology
This book presents the results of a multinational comparative research study promoted by the BBVA Foundation and looking into the social, economic and political conditions that help or hinder family formation in contemporary Europe (France, Italy, Spain, United Kingdom, the former West Germany and the Scandinavian countries). Directing the project was Gøsta Esping-Andersen, Full Professor of Sociology at Pompeu Fabra University, Barcelona, at the head of a team formed by ten researchers from eight universities, Spanish and foreign.
Its authors dissent from the conventional explanations for falling European birth rates, among them the spread of postmodern values revolving around self-realization or the underdeveloped state of social welfare networks, contending that these factors fail to adequately account for the existing evidence. Instead, they point to other, more specific factors documented in the research on which the book is based. These include the reconciliation of family and working life: in particular, male involvement in raising children, a less competitive, more secure employment situation, the impact of other family responsibilities (especially the need to care for elderly parents) and more family-friendly policies (like nine-month maternity or paternity leave).
The results obtained stand as a valuable input to analysis and debate around the causes and challenges associated to declining fertility rates in Spain, while identifying public policies that have proved successful elsewhere in creating a more supportive framework for having and raisingchildren.