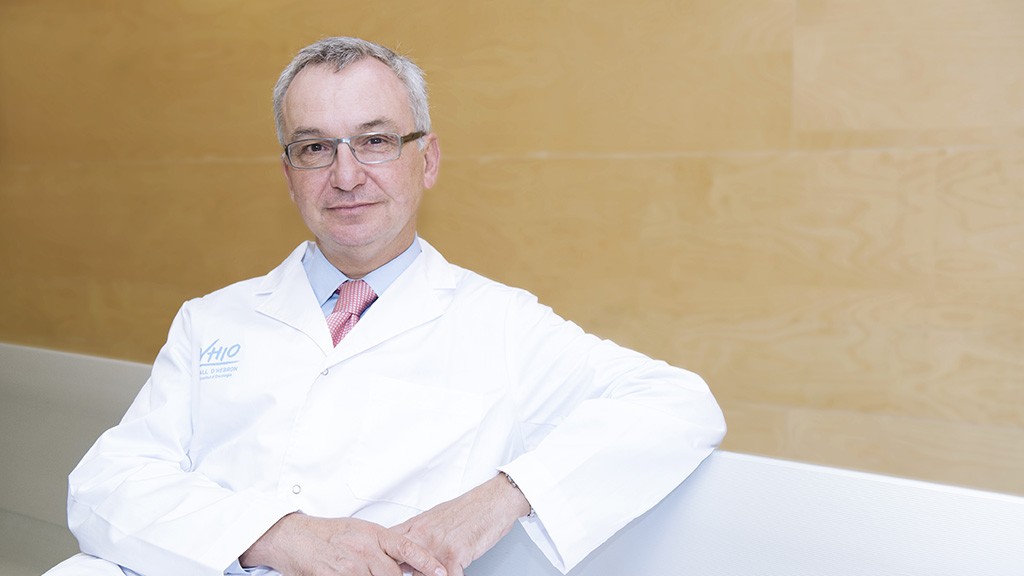 The BBVA Foundation was a partner in the Tumor Biomarkers Research Program led by Dr. Baselga
Oncologist José Baselga, founding head of the Vall d'Hebron Institute of Oncology (VHIO), has died aged 61
Dr. José Baselga, oncologist and founding chair of the Vall d'Hebron Institute of Oncology (VHIO), has died at the age of 61. Besides his fundamental scientific contributions to the treatment of cancer, Baselga's visionary leadership in integrating basic, translational and clinical research in a care facility like Vall d'Hebron University Hospital was key to the creation and development of the VHIO model, a benchmark for other centers, at whose heart is the drive to make research results available to patients in the fastest most direct manner.  Dr. Baselga collaborated with the BBVA Foundation from 2008 to 2010 as a member of the Biomedicine committee of the Frontiers of Knowledge Awards. And since 2011, the Foundation has provided ongoing support to the Program on Tumor Biomarkers Research inspired and led by Dr. Baselga, in which the VHIO is partnered by other leading cancer research centers. A recent development of this program is the Cancer Immunotherapy and Immunology (Caimi) program at VHIO headed by Dr. Josep Tabernero.
"Dr. Baselga was singularly able to combine the best clinical care with frontier basic and translational research in oncology, a union aimed at giving patients access to the latest scientific advances in the shortest possible time, through advanced diagnostic methods and precision therapies, fine-tuned to each patient's case. Imbued with the innovative spirit, he was the driving force behind multidisciplinary teams and institutions of reference in cancer research and treatment; among them VHIO, perhaps his dearest professional home, which today continues to build on his enormous legacy. He uniquely combined a doctor's empathy and closeness to patients with the fresh perspective of the researcher. Many women, in particular, have benefited from new approaches in breast cancer to which Dr. Baselga made a signal contribution," remarked the BBVA Foundation's Director Rafael Pardo after hearing of his passing.
"José Baselga has without doubt been a global authority in clinical and translational oncology, as well as a vocational physician, a researcher committed to pushing the frontiers of diagnostic and treatment possibilities, an institutional innovator and, at the confluence of all this, a leader admired and loved by both patients and colleagues. The BBVA Foundation had the pleasure and honor of having him serve on the Biomedicine committee of our Frontiers of Knowledge Awards in 2008, 2009 and 2010. And since 2011 we have provided continuous funding for one of his main and most cherished lines of work, the BBVA Foundation Research Program "Tumor Biomarkers, Synergy in the Identification and Application of Biomarkers for Improved Cancer Therapy," as a partnership initially between the Massachusetts General Hospital (Boston) and VHIO (Barcelona) and latterly between the Memorial Sloan Kettering Cancer Center in New York and VHIO, always with Dr. Baselga serving as the link between these emblematic institutions. This ongoing partnership has its latest expression in the Comprehensive Cancer Immunotherapy and Immunology Program (Caimi) at VHIO under the direction of another leading oncologist, Dr. Tabernero, for many years a close collaborator of Dr. Baselga's," added the BBVA Foundation Director.
"One anecdote that says everything about Dr. Baselga's tireless dedication is that when he was working in the United States, whether in Boston or New York, phone conversations with him would begin a little before 11:30 am Spanish time, that is, at around 5:30 in the US. And by that time in the morning, he was always at the hospital," Prof. Pardo recalls. "We will never forget his visionary determination to offer the best to each cancer patient, particularly women diagnosed with breast cancer. Our association with VHIO through the Caimi Program and as members of its Board of Trustees and Executive Committee is, in a real sense, a product of Dr. Baselga's example and leadership, continued today by Dr. Josep Tabernero."
"Passion for knowledge and innovation"
José Baselga studied medicine at the Universidad Autónoma de Barcelona (UAB) and began his residency in Internal Medicine at the Vall d'Hebron University Hospital. He completed his training in this specialty at Kings County Hospital in Brooklyn, then when on to train in Oncology at Memorial Sloan Kettering in New York. He returned to Spain in 1996 to take up a professorship at UAB and serve as coordinator and head of the medical oncology service at Vall d'Hebron University Hospital. Under his direction was founded this center's multidisciplinary Oncology Department, an international benchmark in which patient care was integrated with a basic, clinical and translational research program, in order to transfer advances in the shortest time possible from the laboratory to cancer patients.
This mission is at the heart of VHIO, set up on his initiative in 2006 and which he would lead until the time of his departure for the United States.
In 2010, he moved to Boston to take on the oncology division, ­with over a 100 researchers, at Massachusetts General Hospital/Harvard Medical School, a task he combined with the upkeep of research work at VHIO and the co-directorship, with Dr. Josep Tabernero, of the BBVA Foundation Program on Tumor Biomarkers Research.
From 2013 to 2018 he was Chief Medical Officer at the Memorial Sloan Kettering Cancer Center in New York, and in 2019 accepted the position of Head of Global R&D in Oncology with UK pharmaceutical company AstraZeneca.
The VHIO's statement reporting Dr. Baselga's death describes him as being "committed from the outset to the biological basis of diseases, many years before the advances in the identification of the human genome became known. This spirit of combining excellence in the clinical practice of multidisciplinary care teams whilst promoting applied research was quickly disseminated and taken up by other hospitals in Spain and the rest of the world."
It was this vision and leadership that earned him election as president of the European Society of Medical Oncology (ESMO) and later the American Association of Cancer Research (AACR), positions from which he pushed for radical change to ready them for the challenges of the future.
Josep Tabernero, Director of the VHIO and Head of Medical Oncology at the Vall d'Hebron University Hospital, stressed that "in every position of responsibility Dr. Baselga has held, he has stood out for his rigor in applying the scientific spirit, his passion for knowledge and innovation, and his ability to create teams of professionals with the same determination to fight cancer. Through his vision and tenacity in advancing personalized medicine in the treatment of cancer, he was instrumental in bringing many drugs into routine clinical practice, when pharmaceutical companies were initially hesitant about their continued development. Perhaps the best example is trastuzumab (Herceptin) which has contributed to saving so many lives of breast cancer patients."